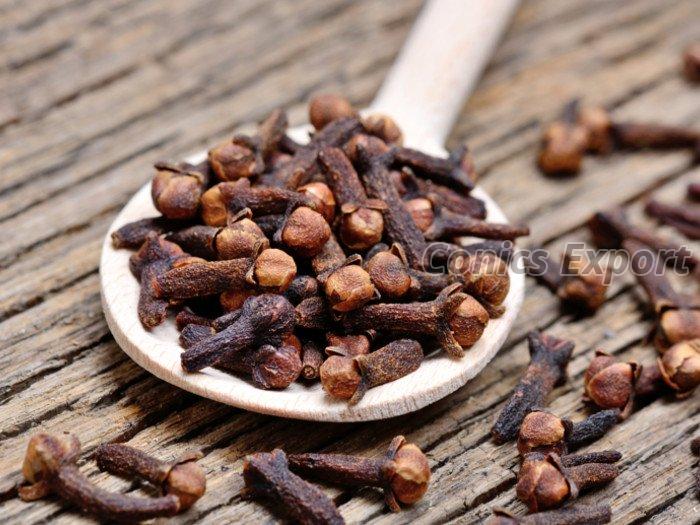 Used as a spice, cloves are the aromatic dried flower buds of Syzygium aromaticum plant. Relished for their distinct sweet taste and pungent aroma, clove pods are used in various preparations to enhance the taste and flavour of the food. From Indian biriyani, pumpkin pie to several spiced beverages and desserts, cloves are used as one of the key spices in many dishes around the world.
Whole clove pods have a very hard and woody texture. Used whole, ground or blended into spice mixes, cloves are one of the pivotal components of Indian garam masala. Its unique aroma lends a distinctive flavour and earthy taste to a wide variety of savoury dishes, desserts, rich curries and beverages. Native to Indonesia, cloves are available in Indian markets throughout the year.

Storage

If stored in airtight containers in a cool and dark place, clove pods remain fresh for about a year. Whole cloves will retain their potency longer than ground cloves.

Health benefits of clove

Clove has been used for thousands of years across the world not only as a spice and but also as a medicine for many ailments and health conditions. Loaded with some powerful antioxidants, antifungal and anti-inflammatory properties, clove pod may help you fight a wide array of ailments.

• It boosts the immune system and aids in treating cold or flu.
• It promotes digestion and protects the liver from the harmful effects of free radicals.
• It helps to control blood sugar level
• It gives relief from pain and inflammation
• It helps to cure toothache and gum diseases like gingivitis
• It is beneficial in preserving bone density
• It is useful in curing headache

Offering a wide assortment of high-quality clove pods at reasonable rates, the suppliers of this warm spice in the country have ensured a strong dominance in the spice market across the world. Their offered range of clove pods is globally acclaimed for their longer shelf life, pungent aroma, earthy sweet taste and affordable price range. Following are some of the factors that the clove pods exporters in India always keep in mind to retain their popularity in the global spice market.

• The clove pods exporters in India are engaged in providing 100% organically certified cloves, which are grown without using any chemicals and pesticides.

• Besides sourcing the cloves from reputed cultivators who grow them in an organic manner with adherence to the strict industry guidelines for quality, the exporters keep their products under constant vigil of experienced agro experts to preserve the natural form, aroma and freshness.
• To meet the varied demands of their wide patron base, they offer these products in many customized high-grade, moisture-proof packaging solutions ranging from 100g-10kg.

• As one of the trusted clove pods suppliers in India, they ensure the on-time and safe delivery of the orders.

• With the help of a wide distribution network, they can easily cater to the bulk and urgent orders of clove pods across the country throughout the year.

• Packs in some amazing health-enhancing properties and a great aroma, clove pods are always highly demanded by consumers around the country.